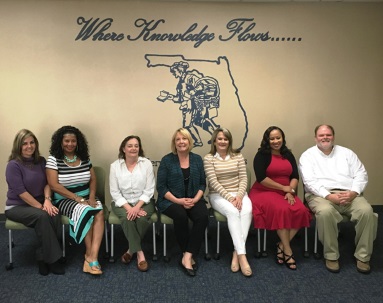 Left to Right: Cathy Tucker - Order Analyst, Ulanda Bellamy - Receptionist, Sheri Swigart - Data Entry, Liz Rafidi - Sr. Manager, Amy Chism - Asst. Manager, Cee Cee Walton - Records Clerk, Jeff Cregor - Order Analyst
FSBD District Services Department

Meet our District Services team whose combined years of experience at FSBD total more than 116 years! Their primary goal is to serve the needs of the School Districts in Florida through their extensive knowledge of the Educational Programs offered and their detailed knowledge of how each School District handles the task of Instructional Materials Management. They are also a great resource for Publisher Representatives to obtain district information. This team processes all orders that come through FSBD — Web site orders, electronic ordering, faxes and good old fashioned mail orders. Their deep knowledge of the vast array of free materials make them the "go to" department for schools and for all of us at FSBD too.