FSBD is now open and fully operational. If you have any emergency orders, mark them "Hurricane" and we will give them first priority. However, delays in deliveries may occur as Florida recovers from Irma. Please call us if you have any questions.

What is Gap?
The Florida adoption schedule was revised aligning subjects to include all of K-12 for that specific subject area. This revision will affect the upcoming adoptions for Science, Math and English Language Arts (ELA). The result is the adoption will end 1 or 2 years before the new adoption begins, creating a "Gap" during which time there will not be sufficient instructional materials in the classroom. Instructional materials are being offered by publishers to bridge the "Gap". FSBD has created a special GAP subject online catalog which is available here. Please contact FSBD or your publisher rep for more information.

Meet FSBD's Information Technology and Product Information Departments
FSBD strives to continually upgrade our technology services to better meet the needs of our customers and publishers. We offer a wide array of technology integration options, including Web interfaces, custom reporting and integrating with our customer and publisher technology systems. Our Product Information Team ensures that all Florida Adopted Instructional Materials are listed accurately according to the contract and non-adopted materials according to the publisher's specifications. These listings are available in print, online catalogs, and in the website database for searches and use in customer forms.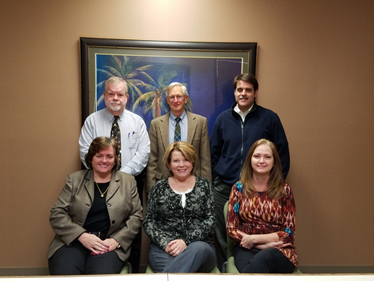 Seated Left to Right: Melinda MacNeil -VP, Brenda Williams and Tina Neely - Product Information Specialists. Standing Left to Right: Les Wing- Operations, Davis MacRae- Sr. VP, Phil Lawson- IT Manager.